The person who sees a chance
to do a good turn here, and a little
one there, and shed a little light here, and
a little sunniness there, has something
to live for.
Henry Drummond

Note: WebTv and non-JavaScript browser users,
please go "Home" for text links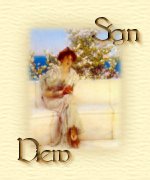 All poetry written by Karen Shaw Matteson is copyrighted and may not be used without express written permission from the author herself, if it is found on this site or any other.
Thank you.
Midi "Cantata" is used with permission
and is copyright © 2001 D.W. Folsom