I will be the gladdest thing under the sun!
I will touch a hundred flowers
And not pick one.
~~ Edna St. Vincent Millay

Revealing my beauty
Is what I do best
Behold every petal
A rainbow at rest

Sweet grass does surround me
My temple seems safe
But not from the cruel ones
Who may seal my fate

The wind softly caresses
My petals so fine
I once was abundant
But I'm lost now in time

I hope I will be here
For your children to see
But I need your protection
Or I'll just cease to be

Karen Shaw Matteson
©2001


Pink Showy Lady Slipper
Cypridpedium reginae
Orchid Family (Orchidaceae)
MINNESOTA'S STATE FLOWER:
The pink and white lady slipper is one of Minnesota's rarest wildflowers. Thriving in swamps, bogs, and damp woods, they grow slowly, taking 4 to 16 years to produce their first flower. Sometimes they live for 50 years and grow four feet tall. They bloom in late June or early July. It is illegal to pick the lady slipper.




include("./PHP/signupcode.html"); ?>
include("./PHP/dropdown.html"); ?>
Note: WebTv and non-JavaScript browser users,
please go "Home" for text links


include("./PHP/sendto.html"); ?>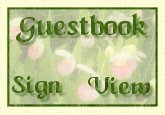 All poetry written by Karen Shaw Matteson is copyrighted and may not be used without express written permission from the author herself, if it is found on this site or any other.
Thank you.
Photo © Copyright Gary D. Tonhouse 2001
is used with permission for this site, and is not to be
taken from this page. Thank you.
Visit Nature Photography by Gary D. Tonhouse today.


Midi "Aerith" from Dolphin Dream's Midi Ocean