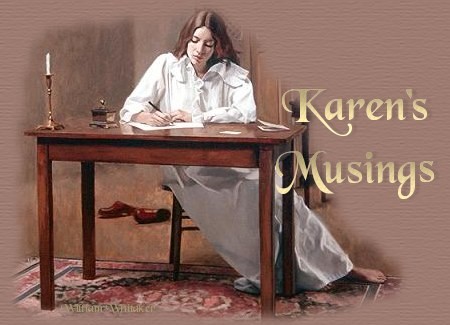 Remember to refresh your browser.
New Musings are added often.
Musings for 2003

How's Your Heart?
Valentine's Day is almost here. People will spend countless dollars on chocolates and roses. Fantastic! My only concern is why don't we send these things to the ones we love more often? It doesn't have to be a dozen roses or Godiva Chocolates. The art of romance isn't a science...but I think it's greatly nurtured by the unexpected gesture. I am thinking the people in my life who mean so much to me are entitled to some special treatment. Yes, I love Valentine's Day. It's not good to assume people know what you mean to them. I have never regretted telling anyone I loved them or that I cared about them. I might not get another chance, so why not tell them while we're both here? ~ Giving is always good for the heart.......and a heart that can't give isn't healthy. My prescription is......a dozen roses and a box of chocolates sent immediately to someone you'd miss terribly if they weren't here. They need to know. Now. ~ Shine on........Karen

Karen Shaw Matteson
©2003

On to the next page of Karen's Musings



Please vote for Lasting Light Poetry
at one of the sites below...thank you!




All poetry written by Karen Shaw Matteson is copyrighted and may not be used without express written permission from the author herself, if it is found on this site or any other.
Thank you.

Artwork © Copyright William Whittaker
is used with permission for this site, and is not to be
taken from this page. Thank you.
Visit The Artwork of William Whitaker today.